Demonstration Fume Hood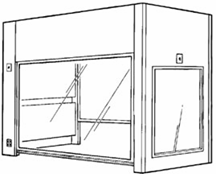 The BMC Demonstration Fume Hoods feature dual access sashes and offer a clear unobstructed view of the Hood interior.
Two independently operating sashes provide viewing and access from either side of the Demonstration Fume Hood. A fixed end window is also provided to increase the interior viewing.
Sashes are glazed with laminated safety glass and have a full width PVC pull for maximum chemical resistance. The Hood interior is lined with chemical resistant "Resin-Chem" and is illuminated with a vapor proof incandescent light fixture.
Full view sash has laminated safety glass, full width flush pull, and counterweight for one finger operation.
Inward angled frame minimizes turbulence resulting in a more efficient operation.
Double wall construction of the hood superstructure allows for easy installation of service fixtures and routing of interior plumbing and electrical lines.
Removable exterior side panels and removable panels on both interior sides allow easy access to service fixtures and supply lines.
A maximum width, two tube fluorescent light fixture is mounted above a sealed safety glass panel.