Spray Booth Fume Hood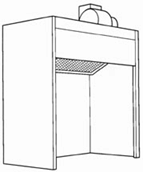 The BMC Spray Booth offers an economical way to exhaust odors and non-toxic fumes in Laboratory, Class Room and Shop environments.
The BMC Spray Booth is constructed of 18 gage steel that is formed and welded into a rigid superstructure. Each unit is finished with a chemical resistant powder coat paint finish and has a replaceable, pleated air filter.
The Spray Booth is designed to have a non-explosion proof exhaust blower (ordered separately) mounted directly on top of the unit. A rectangular duct transition is included to connect the exhaust blower to the Spray Booth. For flammable fumes or vapors, an optional explosion proof exhaust blower must be specified. The explosion proof exhaust blower is designed to be mounted on the roof or other suitable location, but not on top of the Spray Booth.